Main School
International School Award
The International Schools Award is a prestigious accreditation scheme run by The British Council to recognise and celebrate schools that are committed to developing strong partnership with schools in other countries and promoting international activities across the curriculum.
Blessed Hugh Faringdon received the Foundation Level in 2013, the Intermediate level in 2015 and we gained full accreditation in 2019.
Our school has established two strong partnerships with Le Collège François Mitterrand in France and St John Bosco in Slovakia.
At blessed Hugh Faringdon, we believe in:
breaking down barriers between people and promoting appreciation of cultural differences through common values
actively integrating cultural diversity in the curriculum
offering global dimension reflected in the attitudes and values of our students, the ethos of the school, and the Programmes of Study
celebrating the rich and diverse heritage represented in our school, and local and national communities
The core values at Blessed Hugh Faringdon are:
recognising and embracing cross-cultural diversity for all, regardless of race, gender, national or ethnic origin, culture, language, age, religion, sexual orientation, physical ability, political beliefs, as well as any other distinct differences between people
including global dimension in our curriculum and develop skills that will enable our students to understand the global context of their local lives and develop skills that will enable them to combat injustice, prejudice and discrimination
encouraging partnerships with schools in other countries to expose staff and students to different learning and teaching contexts and to challenge negative and simplistic stereotypes and images promoting tolerance of those who have different beliefs than ours and those who may believe in different religions
promoting tolerance of those who have different beliefs than ours and those who may believe in different religions
 Blessed Hugh Faringdon – founder and supporter of the Slovak Educational Leadership partnership
"I have deeply enjoyed being an international school ambassador so far. I was one of the people to help with the international PowerPoint quiz that included information on many different places in the world, at the moment, me and some other year 8's are working on an assembly that we will then display to our year group. I look forwards to the many more interesting projects that still await me and the rest of the international ambassadors for years to come.
Thank you."
International School Ambassador - Year 8
"Staying with a French family last year on the French exchange was one of the best opportunities I have had to enhance my understanding of the French cul-ture and language. I had to be able to communicate in French throughout the time that I was there which really helped to increase my vocabulary and be-come much more confident. I got to experience life at a French school as well as living at my host family's house for a couple of days. Going to school with them was really interesting and we also got the chance to visit Bordeaux for a day which was extremely fun! Also, I was lucky to get on really well with my exchange student and even after almost a year, we still keep in touch today be-cause of the friendship we formed whilst I was staying in France."
Hannah Riddley, Year 11
"During international mother language day, I showed everyone about Nepal; where I come from. I told everyone what it was like to live there and about the flag, which if you ask me is unique because it is not rectangular like most others. As well as this, I told them about the food we have there, which mostly consists of rice and a few homemade delicacies or even get some hot food from a roadside stall. I think this helped many people learn about some other cultures in the world that they might m=not even have heard of. If you're wondering about what cultures there are in Nepal, there's quite a bit, but most people there are either Hindus or Muslims. It might've helped people see how similar living in Nepal is compared to living in Nepal is compared to living in other countries, mostly in Asia, such as the Philippines or Pakistan. Since it was Mother Language Day, I also decided to tell them about the languages spoken in Nepal, these consist of Nepali - which is the most spoken language and then comes Hindi - which is spoken in places closer to India. This was how I think Mother Language Day helps other students in schools."
Acharya Kiran, Year 7
"Mother Language Day was a huge success for Y7 and was a day in which we really celebrated each and everyone's culture.  At the start of the day we were incredibly lucky to have the Head of MFL deliver an amazing assembly all about what Mother Language Day was all about.  At the start of the assembly Y7 students greeted the rest of the year group in their mother language - it was fantastic to hear so many languages spoken.  Y7 were also treated to a performance from Y10 students who performed a scene from Macbeth in Polish.  This was incredible and really demonstrated the power of language within drama to Y7's.  As a member of staff, it was also quite moving to watch a well-known play performed in a different language … something I have never experienced before.  Y7's absolutely loved this, and many have joined Drama club as a result.  During the assembly the Head of MFL also got students to put their hand up if they  spoke multiple languages at home – this was very interesting as staff discovered who actually spoke a different language at home than in school and who in fact was bilingual and even trilingual.  This has had a huge impact on the Year group as we now regularly celebrate students Mother Language more in assembly and tutor time and students have also taught staff words from their spoken language. Since assembly it has also been wonderful to see students embrace their culture and the languages they speak at home.  During assembly students were told to celebrate their language and be proud of their language and not to shy away from it – and they certainly have done which is so wonderful to see."
Mrs L Burns – Head of Year 7
"We should grasp every opportunity there is to highlight and celebrate the multicultural aspect of our school and our International School Status enables us to do just this. It not only helps to fight the intolerance which originates from the fear of unknown, but also creates space for students where they feel valued and appreciated for who they truly are. It builds a common ground for the school community to come together. As a teacher from a different cultural background I firmly believe that this is the only way we can bring people together: by sharing and exploring new cultures, ideas, religion and beliefs." 
Mrs M Magdziak - EAL Coordinator
"As part of Mother Language Day, I invited students in LSA to share greetings in their mother language. We collected short phrases from about 12 different languages. Once on the board, visiting students contributed extra and some students' parents sent in written phrases, eventually reaching 17/18 languages.
This simple activity was very beneficial in building a sense of belonging and stimulating participation & conversation amongst otherwise retiring students. Students took pride in having exclusive knowledge and being able to 'teach the teacher'. Some volunteered to create visual aids. One student who is the very lowest ability volunteered phrases from a specific dialect which no one else knew. I was also able to identify common ground between some students in shared languages which may help me target activity in future. An enriching activity which I hope can be repeated."
Elizabeth Baugh - Learning Support Assistant
View from the Bridge
Staff Notes for week ending 30th June 2022
Dear colleague,
Here is the letest VFTB.
Partner school arrangements in many settings become very niche, just involving a small number of staff, but I am delighted to say 15 plus of our staff have so far visited Slovakia, with more new people going in November.
This week, thanks to the generosity of a number of colleagues, we were able to welcome 40 students and staff from St John Bosco, Bardejov. For many of those students it was the first time out of the country. For all, due to restrictions, it was the first time away in a long time. One of the student's parents had paid for her friend to go too, as her family could not afford it. A small light on our dashboard, but something these students will remember forever. So, thank you.
Simon Uttley
Slovakian Partnership School Trip Visit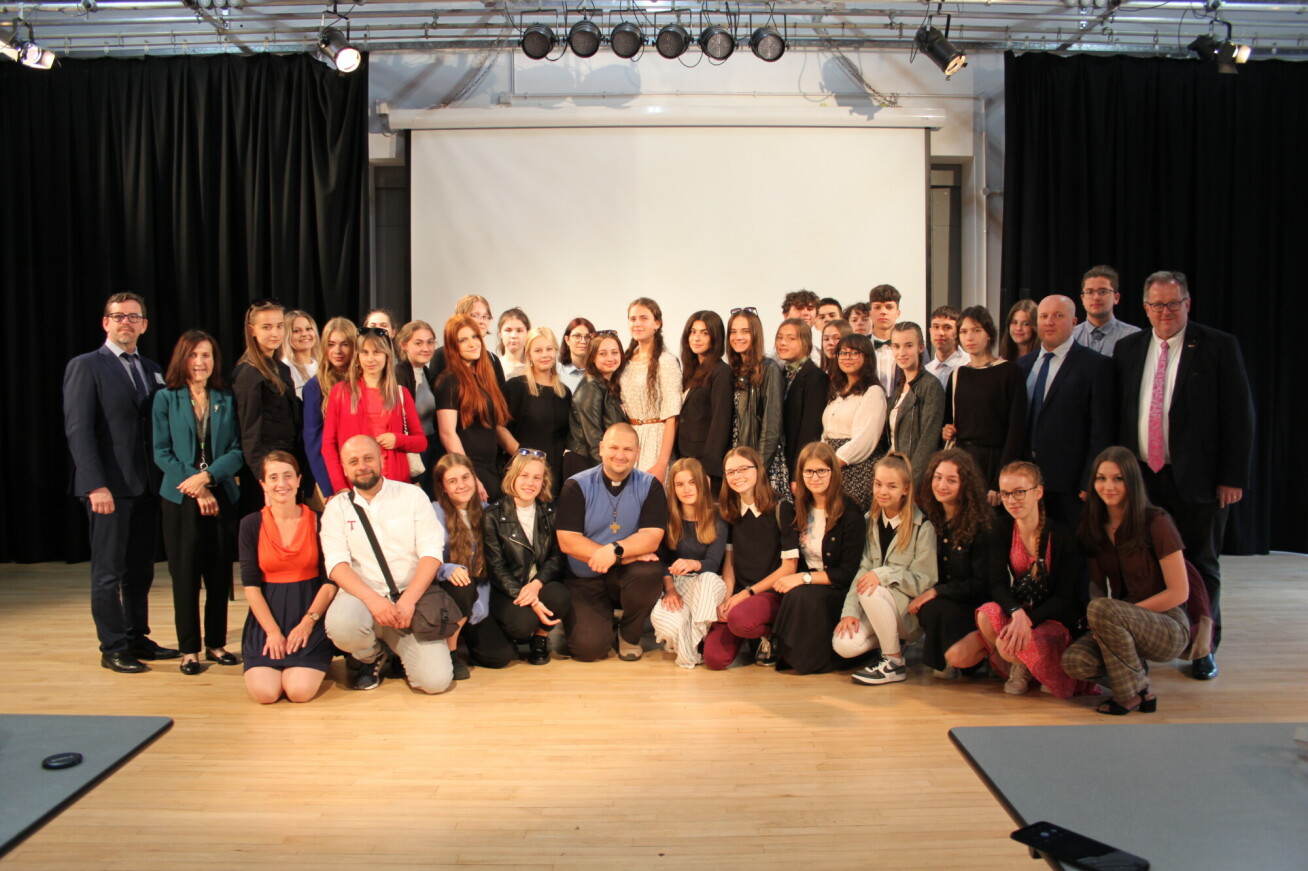 We were delighted to welcome back our Slovakian Parnership School, St John Bosco, this week. They have had a busy week experiencing life at BHF with students, a visit to the Mayor's Parlour and Civic Offices, a trip to Oxford, with their last day in London seeing a West End Show before they travel home.
The Principal of our Partnership School and Dr Uttley, signing a Partnership Agreement taking the project forward.
As an International School, we are committed to celebrating the diverse cultures in our school. Each term, we represent a different country. Activities are taking place in tutor time and lessons, assemblies are delivered by our international school ambassadors and the canteen are providing food twice in the term from these countries.
Ghana
Poland
India
Sierra Leone
Caribbean
Philippines